Aurora Sirialis - premiere May 9 Fylkingen
Premiere of a new composition by Siri Karlsson based on a field trip to search for and experience the Northern Lights - Aurora Borealis. Accompanied by live video art by Jenny Forsgren. Featuring Yasmine El Baramawy - oud and Martin Sörbom - bodhram.
Fylkingen May 9, 2023, Stockholm
Studio Acusticum residence 2023
Siri Karlsson has been granted residency at Studio Acusticum in Piteå 2023 by the Swedish Arts Grant Committee. We look forward to collaborating with Dans i Nord.
Aurora Sirialis is a new piece by Siri Karlsson that departs from the search and experience of Northern Lights - Aurora Borealis. In 2022 Siri Karlsson visited STF Abisko Turiststation and Aurora Sky Station, said to be the best places on earth to experience Northern Lights due to its unusual geographic location exceptionally high frequency of cloud-free nights. They visited the Swedish Institute of Space Physics outside Kiruna to learn about Norther Lights, infra sound and the JUICE expedition to Jupiter's moons. They went down into the LKAB mine to get deeper into planet Earth. Thereafter Siri Karlsson started composing. Siri Karlsson often works with imaginary images in their creation processes. This time the experience and images came first. The music has developed organically, allowing for associations of the experiences of the field trip. The work has extended over almost one year, in periods, and has finally been arranged for a setting that was pre-determined.
Siri Karlsson tour
19-25 Oct Sweden, 2022
New Album Out - 100 DB 13/5

Siri Karlsson
+ Lars Skoglund

at Stockholm Jazz Festival
15 Oct 2021, Källarbyn Gamla stan
We join forces with the formidable drummer Lars Skogund for a concert at the Stockholm Jazz Festival.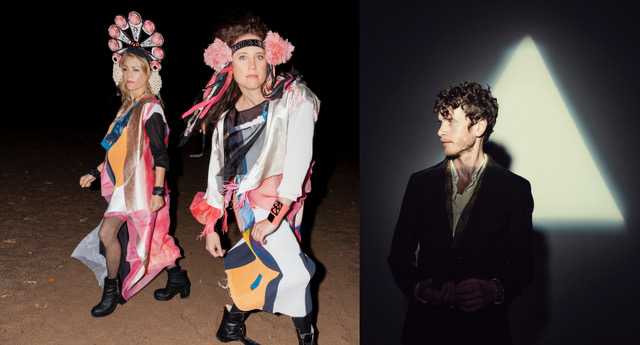 INTERVIEW IN ENGLISH PROG MAG
SIRI KARLSSON


IN FEBRUARY 2018, Siri Karlsson unveiled an ambitious new work for a Swedish radio festival. Horror Vacui was a breathtaking 20-minute piece that cast itself far and wide, from psychedelic folk to avant-jazz to cosmic drone rock and beyond, culminating in a ringing fanfare. It proved one of the undisputed highlights of the electronica-themed event, hosted annually by P2 in Stockholm. Read more here

NOMINATED FOR THE MANIFEST AWARD IN CATEGORY "EXPERIMENTAL"

The Manifest Award is the "alternative grammy award" for independent labels.


SIRI KARLSSON RECIEVES SKAP'S AVANT GARDE AWARD 2019

With their extraordinary fusion of folk and psychedelia they create music that sounds alternately surprisingly screwed, alternately enchanting and thrilling. They are two fearless music creators that open doors that we didn't know existed!


NEW VIDEO OUT - THE PARTY
(FROM ALCUM HORROR VACUI)